Helping Families Navigate the College Application and Financial Aid Process Since 1988
Why Choose KJM
KJM Financial has specialized in assisting families in making their financial dreams come true since 1988. One particular area of expertise is college planning. More specifically, we help families compile an appropriate list of colleges, assist them in order to get as much financial aid as possible, help with the annual FAFSA forms and provide tools in order to invest wisely for maximum efficiency.
Additionally, through our contacts, we can provide SAT/ACT educational assistance and help students discover what career they may best be suited for. Each of the above tasks requires detailed input from our clients in order to allow us to customize a program that is right for them. The process begins with our free educational workshops. During these workshops our approach is to educate people so that even if they do not pursue a one on one relationship with us, they can leave feeling that they learned something valuable about the college planning process.
Our work is not limited to college planning. Recently we began focusing on families with special needs dependents. We also work with small firms and professionals in all areas of benefit planning. This allows us to be global in our view and approach, tying all areas of planning together.
Our approach is very family oriented. We believe in what we do and enjoy helping families achieve their goals. It is our greatest hope that you take the time to get to know us and join us for one of our free workshops.
NEW: Coach's Corner
Read timely information for current students!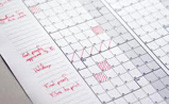 Attend a FREE workshop and learn how to navigate the college admissions and financial aid process.